Should I Use a Projector or Display in My Home Theater?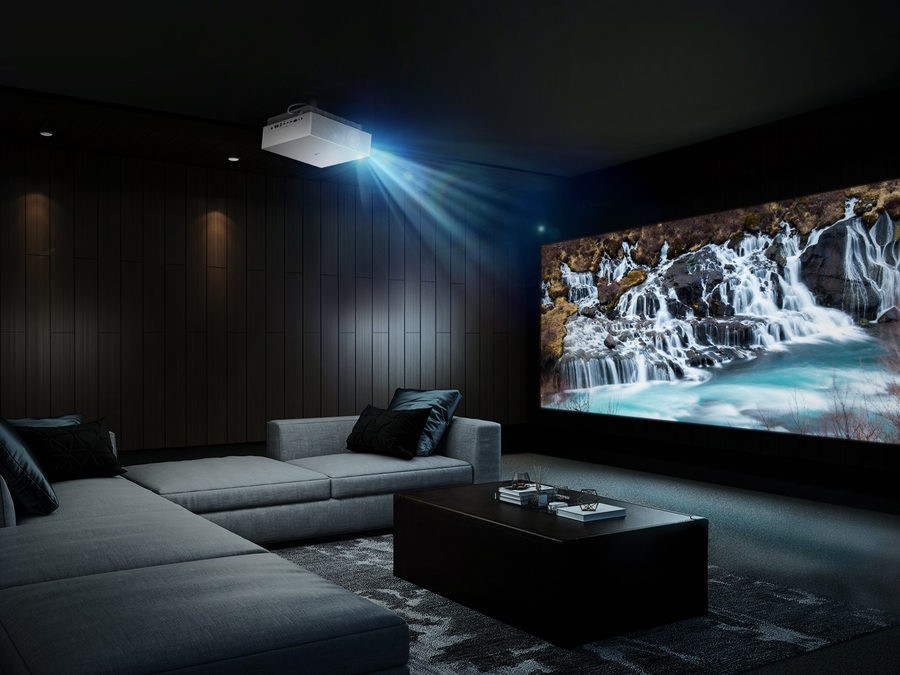 We'll Help You Decide Which Option Is Best for Your Home Theater Installation 
When most people think of a home theater, they probably imagine a projector and screen setup. After all, that's what commercial movie theaters use. But according to CE Pro Magazine, only 35 percent of home theaters use projectors, with the remainder using displays instead. Specifically, 4K TV displays make up 59 percent of home cinema projects. Other screens include standard HD TVs, 8K TVs, and microLED panels. 
Which option is best for your Nashville, TN home? Ultimately, the choice comes down to your personal preference. But if you're having trouble deciding, we'll share the pros and cons of both projectors and TVs to help you make the best decision for your home theater installation. 
SEE ALSO: All You Need to Know About Dolby Atmos for Home Theaters
Projector Pros 
Projectors still deliver the largest image imaginable, usually from 80 to 150 inches or larger. So if you want your movies to look larger-than-life, a projector is the surest and most affordable way to achieve wall-sized images. Another benefit is that projectors can easily retract when not in use. Short-throw projectors also don't take up much space at all if you're concerned about making room for a projector. 
Projector Cons 
While brands like Sony, Samsung, and Epson build 4K projectors that promise brighter colors and deeper blacks than ever, projectors still have trouble displaying high-dynamic-range (HDR) as well as TVs. HDR provides brighter highlights and more colors for a punchier image. Unfortunately, most projectors just can't compete with 4K HD TVs for color gamut and contrast. 
Then there's the issue of ambient light. If there's any light filtering through your windows, it may fade and wash out your projector image. Blackout motorized shades can help with this, but not all homeowners choose to invest in theater shading.
TV Display Pros 
TV screens offer stronger HDR and a brighter image than a projector can. Even if the room is sunny during the day, you'll still be able to see your shows and movies clearly. And in recent years, TVs have grown larger and larger, with Sony even offering a 100-inch screen. But most high-end televisions top off at 75 or 80 inches. That is huge, but still not movie theater-sized. 
TV Display Cons 
If you want a wider screen, there are 100-inch TVs and microLED panels available, but they're costly. Most TVs, even though they look great, won't be as large as a projector setup. TVs also experience glass glare, and some people find their brightness to be a strain on the eyes.
The Verdict 
If size is your focus, a projector system will provide the largest image for you. Laser projectors and ambient light-rejection screens can go a long way to improve brightness and contrast issues.
If the image quality matters more to you than size, then pick a TV. And if your budget is larger, you can still get pretty massive, like Sony's 100-inch TV. Some people simply like the look and feel of a projector more, and vice versa. If your gut is telling you to go one way, there are excellent manufacturers that produce both projectors and TVs that will perfectly suit your home theater.
Are you looking for a home theater installation? Symspire is Nashville's expert in home audio-video solutions. Contact our team here for any questions you may have or to get started on your installation today! 
Stay Informed
When you subscribe to the blog, we will send you an e-mail when there are new updates on the site so you wouldn't miss them.